Thinking of visiting The Whitsundays in the wet season? Its not all about sitting in your hotel room watching Netflix and waiting for the weather to clear. Here in our sub tropical climate we experience two seasons a year, the dry and the wet. Our wet season runs from January – March and can still be a beautiful time to visit. Think green, everything – grass, trees, rain forest, the whole region comes alive after the long dry season. But what to do???
1. Go Chase Waterfalls
We are lucky enough to live near some beautiful waterfalls and swimming holes. Cedar Creek falls, a 45 minute drive away, only flows in our wet season. You can self drive or why not let someone else do the hard work and do a bus tour, also stopping at Whitsunday Gold Coffee plantation and Hydeaway Bay.
.

2. Cuddle our Aussie animals
Not up for getting wet? What about a trip to Bredl's wild farm? Jump in the back of their covered truck as they drive into the crocodile pens to feed and inform you about these magnificent creatures. Then join your fellow tourists in the under cover arena to cuddle the koalas, wombats, kangaroos and even a snake or baby crocodile should you choose. A truly unforgettable experience, no matter what the weather is doing.
.

3.Island Hopping
Did you know there are 74 Islands within the Whitsunday Group? The majority are 100% national park but when its raining why not visit a resort Island? Hamilton and Daydream Islands are only a stones throw from Airlie Beach and a great way to spend a showery day. Jump in the resort pools and go for a swim, use the hop on hop off bus at Hamilton Island or check out the living reef at Daydream Island. There are plenty of under cover activities to enjoy.
.

4.Go for a blast on a Jet Ski
You're going to get wet anyway right?! Beginner or experienced there's a jet ski tour for everyone. From a short 1 hour blast around the bay to a longer adventure to a resort island.
.

5. See Crocodiles in the Wild
Why not head out on a real life Crocodile Safari? Get out on a covered boat and head up the Proserpine River, which is said to have the highest population of Crocodiles per square meter out of anywhere in Queensland. Enjoy a scrumptious BBQ lunch before embarking on a wetland tour in a tractor drawn wagon train.
.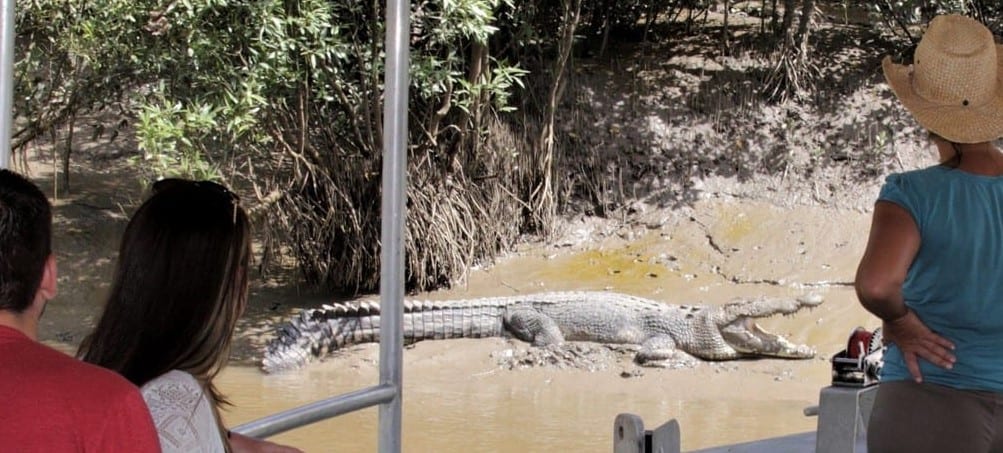 6.Head out for a Hike
Hiking in the rain, especially in our warm, wet season is a lovely way to spend some time. Enjoy the wildlife that comes out in the wet, birds especially love to play in the rain. We are surrounded by some of the most beautiful National Parks right here in Airlie Beach (go to the Conway National Park section of the National Parks guide). You can literally start a hike 5 minutes from the Main Street of town. The Honey Eater walk is one of our most popular walks and takes in the amazing views over the islands to the north of The Whitsundays. There are also some great walks out at Shute Harbour, Mt Rooper and The Coral Beach walks are both worth a mention. If you don't have your own transport a Whitsunday Transit bus can take you there.
.

7. Paddle a Sea Kayak
Summer in the Whitsundays GETS HOT! So why not enjoy a guided Sea Kayak tour on a cool rainy day? Bonus, you won't get burnt to a crisp and its less likely to be windy on an overcast day. Get picked up from your accomodation in Airlie Beach and taken out to Shute Harbour to enjoy a leisurely paddle out to a small uninhabited island. Stop and have a swim and a bite to eat before kayaking home.
.

The Whitsundays are AMAZING even when the weather is miserable
This is just a taste of what is available when the weather is a little inclement. Ultimately it doesn't matter what the weather is doing, a trip to The Whitsundays will not disappoint. One of my most memorable trips to Whitehaven Beach was with a light hearted group of tourists. We were caught out in a torrential rain storm just as we landed at Hill Inlet. We laughed all the way to the lookout, stomping in puddles and having a great laugh. Life really is what you make it.